Webinar: EU's GSP+ Scheme: Pakistan's Status of Engagement and Compliance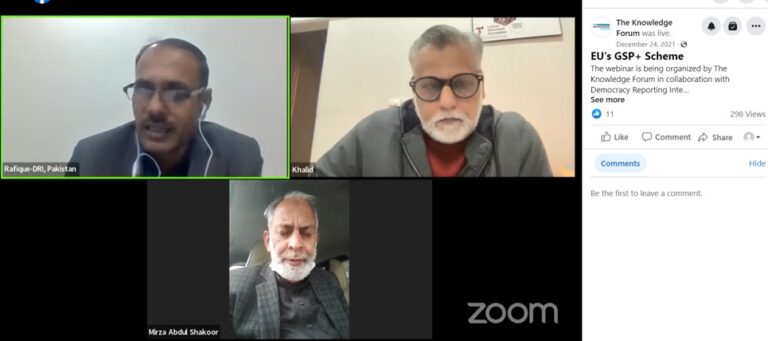 Participants and team of The Knowledge Forum
A webinar was organized by The Knowledge Forum (TKF) in collaboration with Democracy Reporting International (DRI) on the theme of EU's GSP+ Scheme: Pakistan's Status of Engagement and Compliance. This webinar was held on 24th Dec 2021 and was moderated by Muhammad Rafique, Technical Advisor, Human Rights and Advocacy, Democracy Reporting International (DRI). Over 30 participants across Pakistan attended this webinar.
Pakistan is one of the major beneficiary countries of the EU's GSP+ status granted in January 2014 for a period of ten years. As the status nears its term in 2023, the country is required to renegotiate with the EU for transition/continuation of the scheme under a modernised regulation.
The webinar aimed to create informed discussion on the effectiveness of the scheme in terms of fostering development, improvement in compliance with labour and human rights standards and in achieving benefits for the marginalised segments of society, which is the key objective of the GSP+ Scheme.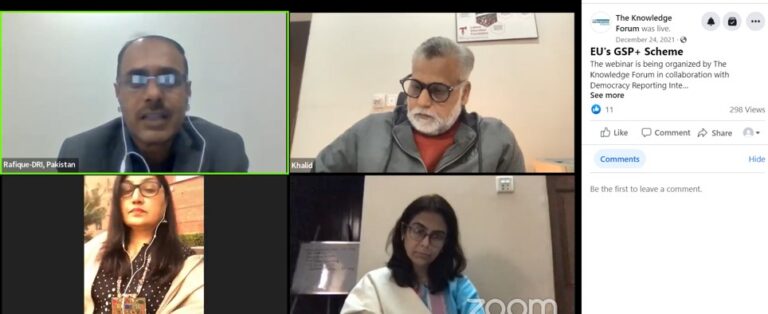 Senior members of the civil society attend the Webinar on EU's GSP+ Scheme: Pakistan's Status of Engagement and Compliance
Expert panellists engaged were Bushra Khaliq, Executive Director, Women in Struggle for Empowerment (WISE); Baba Latif Ansari, Chairman, Labour Qaumi Movement (LQM) and Khalid Mehmood, Director, Labour Education Foundation (LEF).
Topics discussed were about the importance of collaborating with partners for knowledge and evidence-based research, significance of working on human rights, engaging with Govt. stakeholders and civil society stakeholders. It is important to understand how are taking the opportunity of GSP Plus. We need to have a political will. It is important to think and prioritize issues of women, children and minorities.
The experts also shared that the EU has recommended to further strengthen the monitoring component. EUs is looking how to formalize the role of CSOs, so we need to see how to capitalize. We also need to factor in the withdrawal protocols. Labour compliance and its ground realities were also discussed. It was concluded that we all want to avail and extend this opportunity for a better future.