Webinar: The State of Civic Freedoms in Pakistan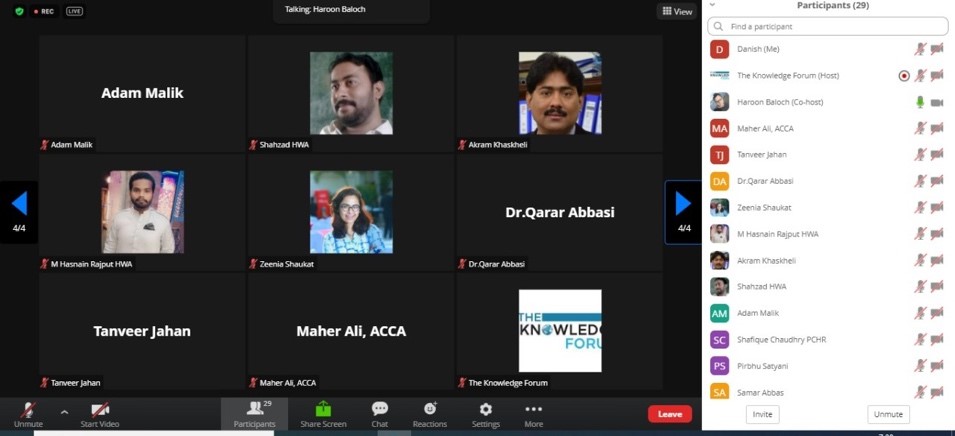 Participants and team of The Knowledge Forum
The Knowledge Forum in collaboration with the Digital Progressive Algorithms organized a webinar titled "The State of Civic Freedoms in Pakistan". This webinar was held online on 29th Dec 2021 and was attended by over 30 participants across Pakistan.
The aim of this webinar was to discuss the diverse range of challenges to the democratic space in Pakistan. Various civil society actors were given a platform to share related struggles, experiences and observations. The focus was to contribute to navigate the challenges and explore solutions.  This webinar was moderated by Haroon Baloch, Senior Program Manager, Bytes for All. Leading panelists were invited to share their expertise and experiences. They were, Tanveer Jahan, Executive Director, Democratic Commission for Human Development; Chaudhry Muhammad Shafique, Executive Director, Parliamentarians Commission of Human Rights and Malik Saeed Awan, Senior Journalist.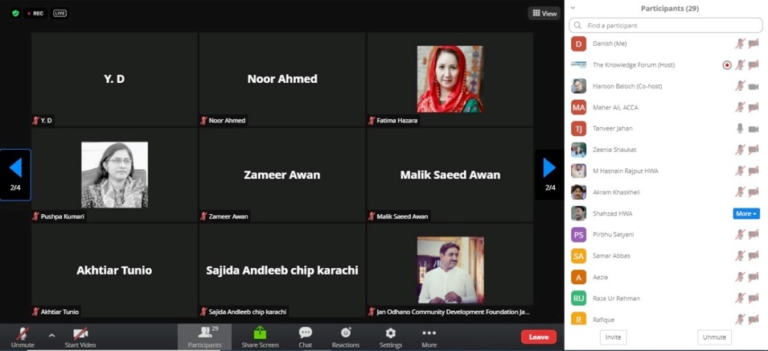 Senior members of the civil society attend the Webinar on The State of Civic Freedoms in Pakistan
Key discussion revolved around the connection between local and global issues, role of journalists and civil society in Pakistan and the limitations they experience. There was a discussion about regulation for nonprofits/ non-Governmental organizations. It was concluded that the environment should be enabling for the civil society and journalist to work so that we could work for protection and promotion of human rights. There are concerns when freedom of expression would be under vigilance. An additional point is the scale of surveillance experienced by the civil society workers. Furthermore, increasing restriction on media, regulation for social media post 2016 and how the media representatives are being affected was also discussed.
It was concluded that we need to generate a discourse and engage politicians and other stakeholders as well. We need to work on strengthening the level of trust between various stakeholders. A collective response of civil society in this scenario is pivotal for development.
The panelists responded well to the questions asked by the participants after the main round of discussion. The participants appreciated this initiative and identified the need for similar learning programs.