Webinar on Climate Movements in Pakistan:
Uniting to Save the Environment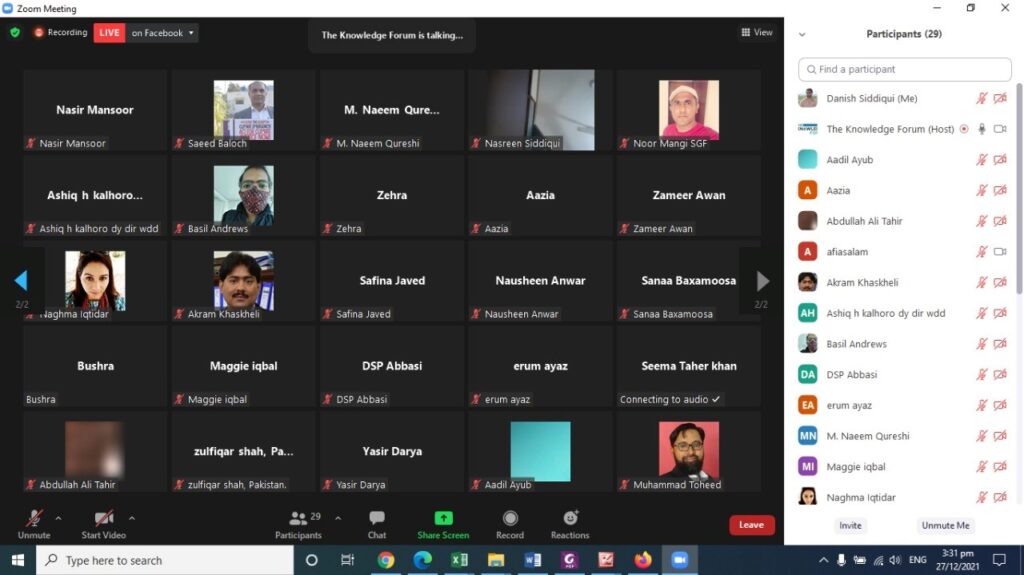 Participants and team of The Knowledge Forum
The Knowledge Forum organized a webinar titled "Climate Movements in Pakistan: Uniting to Save the Environment". This webinar was held on 27th Dec 2021 and was moderated by Shujauddin Qureshi, Communication Expert at The Knowledge Forum. Over 30 participants from interdisciplinary background participated and appreciated this effort. The aim of this webinar was to discuss the climate movement in Pakistan in relation to the global climate movement, the expanding challenges of the climate crisis and a state that prioritises a capitalist-led development model over community's wellbeing. This webinar successfully engaged activists, journalists, researchers and civil society members leading the climate discourse. The focus was to promote a greater understanding of the multitude of responses to climate change challenges in Pakistan. Expert panelist shared their views and experiences, including Zofeen T. Ebrahim, Journalist (Third Pole, Thomson Reuters Foundation, Dawn and the Guardian); Afia Salam, Journalist (Covering Environment and Climate Change); Nasir Mansoor, General Secretary, National Trade Union Federation Pakistan (NTUF); Muhammad Toheed, Urban Planner and Researcher and Aadil Ayub, Activist, Member Karachi Bachao Tehreek & Climate Action PK.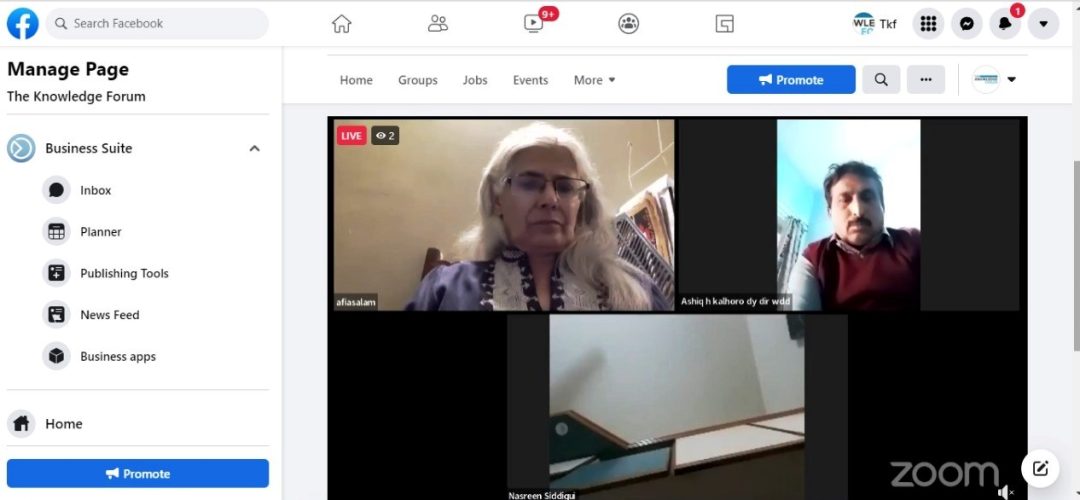 Senior members of the civil society attend the Webinar on Climate Movements in Pakistan: Uniting to Save the Environment
Key themes discussed by the panellists were related to climate change and its effect across Pakistan, the importance of climate and environmental justice, increased vulnerability of the underserved due to forced displacement for rapid urbanization, the lack of awareness among the movements about climate change phenomena, although they are raising their voices due to being affected by climate change, COP26 Summit and the importance of raising voices for climate change concerns, climate threats, materials used for rapid urbanization and its negative effects, urban flooding, successful women led movements in Sindh and how the ongoing movements serves as a beacon of hope for a constructive change.
A separate session was dedicated to participants' questions which were answered by the experts.
In response to the need identified, TKF also offered a dedicated space to discuss climate issues, share global trends and best practices.